Strictly Beds use various carriers to complete our orders, depending on your location will depend on which carrier we use.
Provided you have supplied the correct mobile number and email address you will have been sent the tracking number and carrier name, remember always check your email spam or junk folder for these notifications. If you cannot find this tracking number please email us at help@strictlybedsandbunks.co.uk. (Please ensure you include your FULL delivery address and mobile number when emailing in)


Amazon order – Unfortunately Amazon email out delivery estimates not based on actual facts. Please ignore these, they are only estimates.  To save waiting in all day for no reason we advise you the exact delivery day. We can only sent this to the contact numbr given to us by Amazon, if this incorrect then you wont recevive this, again email us in.
Within our tracking text/email you will have been advised who is completing your order. Please see below on how to track. Please note deliveries do start from 6.30am in the morning.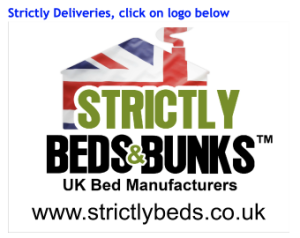 ParcelForce (PF)

IMPORTANT: Amazon Orders:
Unfortunately Amazon does not always pass on the correct information. You may have a landline on your account, this means you will not receive a text. Amazon may not send your email address, this means you will not receive the tracking email.
However. the tracking ID is always , always attached to your order. Please go to your order dashboard, you will find the information there. If you need help click or copy and paste this link: https://tinyurl.com/yb4n3ouu